34th Annual BMI Film, TV, & Visual Media Awards
On May 9th, 2018, elite members of the film and television music community were treated to an evening of honor and inspiration at Broadcast Music Inc. (BMI)'s 34th Annual Film, TV, & Visual Media Awards at the Beverly Wilshire Hotel. A palpable magic filled the room as esteemed composers, high-powered executives, and industry tastemakers gathered to pay tribute to the iconic John Williams. As one of the most influential composers in the history of film music, Williams' legacy is self-evident.
Over six decades, Williams' has scored a broad diversity of blockbuster franchises and cinematic treasures, such as Star Wars, Jaws, Indiana Jones, E.T., Schindler's List, Harry Potter, Lincoln, Saving Private Ryan, and Jurassic Park. In Williams' acceptance speech, he stated "Music, in the end, it's a gift to us, even in the fetal state, and goes with us all through our lives, and it is idealistic, of course, to think what we do is not about our career, but it's about our service to music, in the sense, that we arrive here. Music is here. We've been given a tremendous literature, that a lifetime is not long enough to study and read. So our gratitude, we all feel it in this room right now, this kind of celebration tonight marks all that."
The ceremony also honored Laura Karpman, Lolita Ritmanis, and Miriam Cutler with the coveted BMI Champion Award, recognizing their advocacy through The Alliance of Women Film Composers. Since 2014, the three musical wonder women have dedicated themselves to championing female composers within a field notoriously devoid of gender equity. Lolita Ritmanis explained, "We're women with super powers. We are going to conquer the male-dominated film music industry."
When asked about their next steps to expand the reach of their organization and create more opportunities for women in film music, Laura Karpman replied, "We're taking them all the time. As a Governor at the Recording Academy, we have an initiative where we are increasing our membership. All of us are constantly taking meetings now, with studios, with all the networks. One of the most significant things we've done at the Alliance is create a wonderful community." Miriam Cutler chimed in, "We are doing the same thing with the TV Academy. It's been important to really get information out there to women about how to join, how to qualify. We have also created a directory." We learned that The AWFC is 300 members strong today.
Taking home BMI's Classic Contribution Award was Rick Baitz, who has led an initiative called Composing For The Screen Workshop in New York for ten years. Through the program, Baitz offers his expertise and guidance to the next generation of composers.
BMI COMPOSERS SHARE THEIR LOVE FOR JOHN WILLIAMS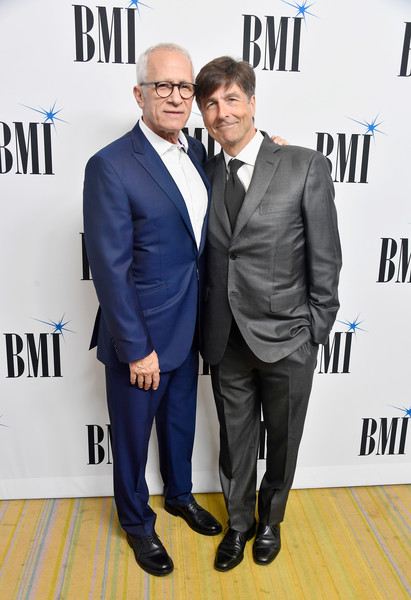 "John Williams was kind enough to offer me the opportunity to orchestrate one cue from Return of the Jedi. It was Darth Vader's death. It ended up being pretty easy because the sketch was so complete. There was very little for me to do, but I was very honored to be asked."
THOMAS NEWMAN (Skyfall, American Beauty, The Help)
"John Williams is like The Beatles of scoring. He's always had it and he's so deep musically. When you listen to what he's doing on a thematic level, emotional level, in tone, and in orchestration, it's a masterclass. Everything he does is a masterclass and it's always very different. Saving Private Ryan has some beautiful work in it. Obviously, Star Wars. Tin-Tin was incredible. I could go on, but there are too many. What else can I say? He's the greatest. It's beyond film scoring."
LYLE WORKMAN (Superbad, Forgetting Sarah Marshall, Love)
"John Williams is the entire reason I do this. Like a lot of people, my first big soundtrack love was Star Wars. It moved me emotionally. I would listen to Leia's Theme and The Force Theme and they would move me to tears. I didn't fully understand because I was little, but I got inspired to re-live movies by listening to their soundtracks...
John Williams really, more than anybody, influenced me to sit down at a piano and start learning to write music. This honor is well deserved. He is the most famous and most respected composer of the last century. I've said it before but I still think he's underrated. We will be going through and deconstructing his music for centuries.
BRIAN TYLER (The Mummy, Iron Man 3, Furious 7, Crazy Rich Asians)
"John Williams is my hero. There is no one who writes themes better than that man. He's literally inhuman. His talent is quite honestly otherworldly. I know this dates me a little bit, but on my first date in 4th grade, I had my parents drive me and my friend to the movie theater to see E.T. By the end of the movie, I had tears streaming down my face. I remember leaning over and saying "No, no! We have to stay through the credits because I want to hear the music." It was partially because I didn't want her to see how much I was crying, but I couldn't help it because I was inspired by this amazing music. The end of E.T. is spectacular. There's also an amazing score he did for a John Singleton film called Rosewood. Most people don't know of it, but it's stunning. Gospel and amazing guitar work. Those are two of my all-time favorites."
CHRISTOPHER LENNERTZ (Lost In Space, Baywatch, Pitch Perfect 3)
"John Williams has set the standard very high for film scoring. He's managed to carry on the traditions of classic composing techniques. He has really kept people listening. He works so hard, it's not a magic trick. Apart from being immensely talented, he is very well-respected. I think it's just a breathtaking evening, simply to be in his presence."
LOLITA RITMANIS (Batman: The Kiling Joke, Avengers Assemble)
"Anybody who's a fan of film music has been influenced by John Williams. I grew up having his themes ingrained into my psyche. I would have to say it was the Jaws theme that resonated the most with me because he did so much with such simplicity. So effective and so wonderful, using such little material."
CHARLIE CLOUSER (The Saw Franchise, American Horror Story, Wayward Pines)
"Most people in this room are here because they've been inspired by him. He was a massive part of my life as a kid. My dad's a cellist back in London, doing sessions and he was fortunate enough to play on Harry Potter 3. John Williams is genuinely a genius. I know that word gets used a lot, but what he does with notes and melody…He's a true composer. His music is a massive reason why these franchises become so huge and so memorable. He gives it a sound. His work is on a different level. We're all hacks compared to him. I adore the man's music."
DOMINIC LEWIS (Peter Rabbit, The Man in the High Castle)
"John Williams is the zero base guy from which we all grow. He's the guy who captured our imaginations as kids. Even if we don't or couldn't even dream about writing like him, we all aspire to do half of what he does and the films he works on."
NATHAN BARR (The Americans, Sneaky Pete, True Blood)
"I have thought on John Williams and I think that he's pushed the bar too high. I will never get there. Oh My God, it is so exciting, just to be in the room with somebody like that. To be able to stand up and clap for him, and say well done and how much we really love him and what he's done for our industry."
KURT FARQUHAR (Black Lightning, Being Mary Jane)
"I have felt the enthusiasm and the inventiveness speak through his music in this universal way. John Williams is very articulate and so virtuosic. The fact that he's able to speak to us on so many different levels is remarkable. Even the most technically oriented of us have tons to chew on. He continually brings that layer of heart to every film that he's a part of."
RONIT KIRCHMAN (The Sinner, Zen & The Art of Dying)
"Oh man, who hasn't he influenced? If somebody asked me for my favorite John Williams score, it would be like if you asked me my favorite Beatles record. It can't be done. He's a genius. Lately, I've listened to a lot of the Harry Potter scores. It's just incredible how he was able to nail all of the characters so beautifully."
FIL EISLER (Empire, Life of The Party, Proud Mary, Dietland)
"John Williams is the first rock star film composer. It's really inspiring to me that we can write music for films and television and then get appreciated outside of that, do concerts, and have fans. I think that's wonderful."
MAC QUAYLE (Mr. Robot, American Crime Story, American Horror Story)
AND THE WINNERS ARE ...
BMI JOHN WILLIAMS AWARD
JOHN WILLIAMS
BMI CLASSIC CONTRIBUTION AWARD
RICK BAITZ
BMI CHAMPION AWARDS
MIRIAM CUTLER
LAURA KARPMAN
LOLITA RITAMANIS
Academy Award® Winners
THE SHAPE OF WATER
ALEXANDRE DESPLAT
"REMEMBER ME" FROM COCO
KRISTEN ANDERSON-LOPEZ
ROBERT LOPEZ
BLACK PANTHER
Ludwig Göransson
GUARDIANS OF THE GALAXY VOL. 2
Tyler Bates
JUSTICE LEAGUE
Danny Elfman
READY PLAYER ONE
Alan Silvestri
PITCH PERFECT 3
Christopher Lennertz
FIFTY SHADES FREED
Danny Elfman
THE HITMAN'S BODYGUARD
Atli Örvarsson
A BAD MOMS CHRISTMAS
Christopher Lennertz
THE LEGO NINJAGO MOVIE
Mark Mothersbaugh
TOMB RAIDER
Tom Holkenborg
STAR WARS: THE LAST JEDI
John Williams
THOR: RAGNAROK
Mark Mothersbaugh
AVENGERS: INFINITY WAR
Alan Silvestri
TRANSFORMERS: THE LAST KNIGHT
Steve Jablonsky
PETER RABBIT
Dominic Lewis
DADDY'S HOME 2
Michael Andrews
A WRINKLE IN TIME
Ramin Djawadi
CAPTAIN UNDERPANTS: THE FIRST EPIC MOVIE
Theodore Shapiro
RAMPAGE
Andrew Lockington (SOCAN)
THE SHAPE OF WATER
Alexandre Desplat
BAYWATCH
Christopher Lennertz
BMI STREAMING MEDIA AWARDS
FULLER HOUSE
Jeff Franklin
Bennett Salvay
ORANGE IS THE NEW BLACK
Gwendolyn Sanford
Regina Spektor
SHUT EYE
Leslie Bohem
Ben Decter
THE MAN IN THE HIGH CASTLE
Dominic Lewis
A SERIES OF UNFORTUNATE EVENTS
Chris Bacon
Daniel Handler
James Newton Howard
Nick Urata
IRON FIST
Trevor Morris
GOLIATH
Tim Graves
Jeremiah Zimmerman
SNEAKY PETE
Nathan Barr
Edward Braillif
BMI NETWORK TELEVISION
MUSIC AWARDS
THIS IS US
Siddhartha Khosla
YOUNG SHELDON
Steve Burns
BLUE BLOODS
Rob Simonsen
GREY'S ANATOMY
Carim Clasmann (PRS)
Galia Durant (PRS)
CHICAGO MED
Atli Örvarsson
CHICAGO FIRE
Atli Örvarsson
9-1-1
Mac Quayle
CRIMINAL MINDS
Mark Mancina
LAW & ORDER: SVU
Mike Post
MACGYVER
Keith Power (SOCAN)
WISDOM OF THE CROWD
Paul Haslinger
LIFE IN PIECES
Rob Simonsen
SCANDAL
Chad Fischer
AMERICA'S GOT TALENT
Jos Jorgensen
Andy Love
NCIS: NEW ORLEANS
Tree Adams
John Lee Hooker
HAWAII FIVE-0
Keith Power (SOCAN)
Brian Tyler
CHICAGO P.D.
Atli Örvarsson
SEAL TEAM A.
Patrick Rose
Snuffy Walden
DESIGNATED SURVIVOR
Sean Callery
Robert Lydecker
EMPIRE
Jim Beanz
Fil Eisler
SCORPION
Tony Morales
Brian Tyler
THE BACHELOR
Rob Cairns
THE FLASH
Nathaniel Blume
Blake Neely
BMI CABLE TELEVISION
MUSIC AWARDS
ANIMAL KINGDOM
Samuel Jones
Alexis Marsh
Atticus Ross
Claudia Sarne
THE SINNER
Ronit Kirchman
GAME OF THRONES
Ramin Djawadi
THE GUEST BOOK
Benjamin Jaffe
John E. Low
Suzanne Santo
HENRY DANGER
Michael Corcoran
Zack Hexum
AMERICAN HORROR STORY
Charlie Clouser
César Dávila-Irizarry
Mac Quayle
ALASKAN BUSH PEOPLE
Jacob Shea
FEAR THE WALKING DEAD
Paul Haslinger
Atticus Ross
Interviewers | Paul Goldowitz, Ruby Gartenberg
Editing, Copy, Layout | Ruby Gartenberg
Special thank you to Marlene Meraz and BMI.
Images courtesy of Frazer Harrison and Lester Cohen.